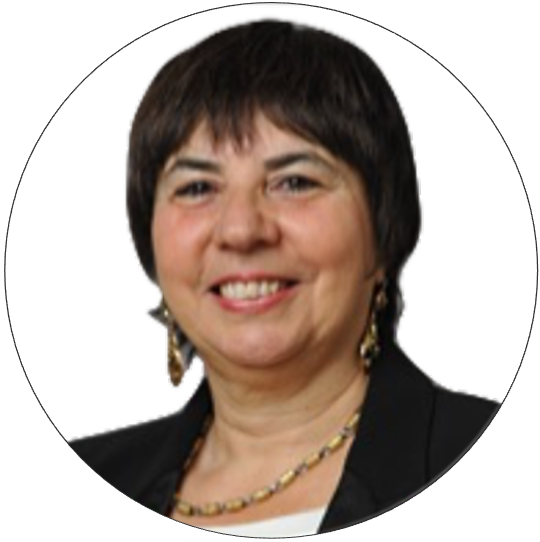 Luisa De Cola
Principal Investigator
Researcher at the Mario Negri and will join the University of Milano as full professor. Her research is described in more than 370 publications in major journals, (21,200 citations to date, h-index: 75) and in 36 patents. She received an ERC Advanced Grant in 2009 (MAGIC- (Nano)-Materials for cell Growth, Imaging and Communication). She received a Master Degree in Chemistry summa cum laude, University of Messina (Italy), supervisor Prof. Raffaello Romeo. After a Postdoctoral fellowship (National Institute of Health fellowship) at the Virginia Commonwealth University, Richmond, USA she joined in 1990 the University of Bologna (Italy), as Assistant Professor. In 1998-2004 she accepted a call as Full Professor, University of Amsterdam (the Netherlands), and in 2004 she moved as Full Professor (C4) in Physics and Chemistry, at the University of Münster (Germany) where she has been also the vice-director of the Center for Nanotechnology (CenTech). She was Full Professor (Class Exceptionnelle), AXA chair of Supra-molecular and Biomaterial Chemistry, at ISIS, University of Strasbourg and CNRS, France and adjunct Scientist at the Karlsruher Institut für Technologie, Germany. Since 2016 she is Professor at the Institut Universitaire de France, and since 2019 Honorary Professor at Tianjin University.
Role in the project: She will develop artificial EVs and organosilica capsules to be used as delivery system for drugs and biomolecules. In addition, the functionalization of the surface with lipids labelled with optical active dyes will be used to understand the reorganization of the mobile layer upon interactions with the cells.
He is Head of the Department of Molecular Biochemistry and Pharmacology and of the Laboratory of Biochemistry and Protein Chemistry. His research is described in about 400 papers major international journals (19.420 citations to date, h-index 70) and 20 book chapters.
He obtained his degree in Biochemistry at the University of Milan, Prof. Luigi Rossi Bernardi; he earned the PhD degree at the Mario Negri Institute in 1974; from 1977 he became head of the Laboratory of Enzymology at the Mario Negri Institute. From 1977-1980 and 1986-1987 he attended as visiting scientist the Weizmann Institute of Science (Rehovot, Israel) the laboratories led by Prof Meir Shinitzky and Prof David Samuel, respectively.
In 1997 he became Head of the Department of Molecular Biochemistry and Pharmacology and the Laboratory of Biochemistry and Protein Chemistry. He was a member of the Board of Trustees of the Consorzio Mario Negri Sud (1997-2012) and of the Fondazione Filarete (2015-2018). He is one of the founders of the European Infrastructure for Translational Medicine (EATRIS) in 2007 and presently leads the Small Molecules Products Platform.
Role in the project: Molecular modelling, preparation of synthetic small proteins and peptides.
She is Head of Protein and Metabolite Biomarkers Unit, Laboratory of Mass Spectrometry, Department of Environmental Health Sciences, Istituto di Ricerche Farmacologche Mario Negri IRCCS, Milano. She has track record expertise in mass spectrometry-based proteomics and metabolomics for the characterization of complex phenotypes relevant in human diseases. She is partner in on-going national research grants and partner/WP leader in EU projects.
Role in the project: Dr. Pastorelli will be involved in mass spectrometry based proteomics strategies for the identification of proteins present on the surface of natural EVs and the validation of their presence on artificial EV mimics.